Eudaimonia Studio is a new villa with an aesthetic concept in Bandung. This villa belongs to celebgram Rachel Vennya, of course this name is very familiar in the ears of the people of the country. He is known as a celebgram as well as a successful entrepreneur. His business in the culinary field is always successful. Villa Eudaimonia Studio is not a villa like most other villas. This villa is a luxury villa because it has various complete facilities, one of them is an infinity pool with warm water.
This villa is called eudaimonia because it is taken from the word eudaimonic which comes from the Greek daimon which means the real self. Next, the term eudaimonia (happiness) known through the writings of Aristotle. In psychology, the term is generally called psychological well-being. Aristotle's view in the term eudaimonia refers to happiness is not obtained by the pursuit of pleasure and the avoidance of pain.. Happiness is also not from the fulfillment of all individual needs.
The meaning of happiness in this philosophy is through real action, individual actualizes his potential. So that it can be said that it is a human responsibility that determines being a happy individual, feel whether his life is quality, succeed or fail. Wah, from the name of the villa, it already has a very deep meaning, Paradiva. Now let's know the interior of the villa, let's go!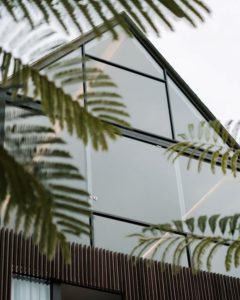 Eudaimonia Studios has most of the main parts of the house full of glass. This can make the owner get a wide and clear sky landscape during the day without feeling hot with the help of this special glass. This full glass house design is often found in modern European and American buildings. The goal is that homeowners can get a variety of views of the weather outside the house. Then, because I want it to be more natural and natural, the wood element is the main magnet that also decorates the house a lot. Some of the existing equipment is also combined with earth tone colors to paint this villa.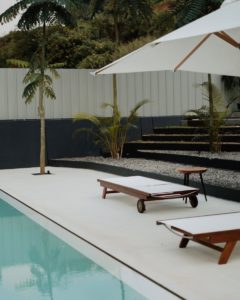 After that, uniquely in this villa there is an infinity pool that contains warm water. This is something that a cold Paradiva needs if you want to swim in Bandung. other than that, there is also a lounge by the pool. There is a place to sunbathe to a beautiful coffee table to relax together. Then in the middle room, made with the concept that there is more freedom of movement during activities. There is no partition separating the TV room, dining room and kitchen. This way of combining makes the room feel more spacious. This villa can be rented by Paradiva to stay with family or friends, Just visit his Instagram @eudaimonia.studios.
Read Also, Alila Villas Uluwatu Is A Suitable Place For A Year-End Getaway With The Family
[adrotate banner ="3"]